Wedding Limousine Service is Our Specialty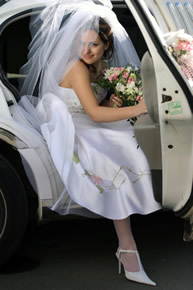 We provide the highest quality wedding and wedding reception limousine services in New York City. Use a stretch limo or several limousines from Starlight Luxury Limo Service to make your wedding day exceptional. Let us help you make your wedding as wonderful and stress free as possible.
Using our New York Wedding Limousine service means that you can count on clean, well-maintained vehicles and unparalleled service.
If you want to arrive at the wedding in style and comfort then you are looking for a wedding limousine from Starlight Luxury Limousine. Our wedding limousines are perfect to make the bride and groom feel like the King and Queen on that special day.
Whether it's as simple as getting you to the church on time, making sure that the champagne is on ice, or sending you off on your honeymoon, our professional & courteous limousine chauffeur will roll out the red carpet for the happy couple and decorate the limousine with "Just Married".